● Chase Briscoe is riding a wave of momentum heading into the NASCAR Cup Series' next race at Charlotte (N.C.) Motor Speedway after a career-best sixth-place finish last Sunday at Circuit of the Americas (COTA) in Austin, Texas. The driver of the HighPoint.com Ford Mustang finished seventh and ninth in the first two stages, respectively, and powered through a race full of inclement weather to sit inside the top-10 once again when the race was called 14 laps before its scheduled distance.
● This weekend at Charlotte, the No. 14 HighPoint.com Ford will sport a patriotic livery that includes an American flag adorning the side of Briscoe's Mustang, and riding along for 600 miles around the 1.5-mile Charlotte oval will be Petty Officer Second Class (SEAL) Marc A. Lee of Portland, Oregon. Lee and his team members from SEAL Team Three, Charlie Platoon deployed to Iraq in the Spring of 2006 and attached to Task Unit Ramadi, under Task Unit Commander Lieutenant Commander (SEAL) John "Jocko" Willink.
● On the night of Aug. 2, 2006, during a cordon and search operation of the heavily contested "J-Block" area, Charlie Platoon SEAL combat advisors engaged in one of the most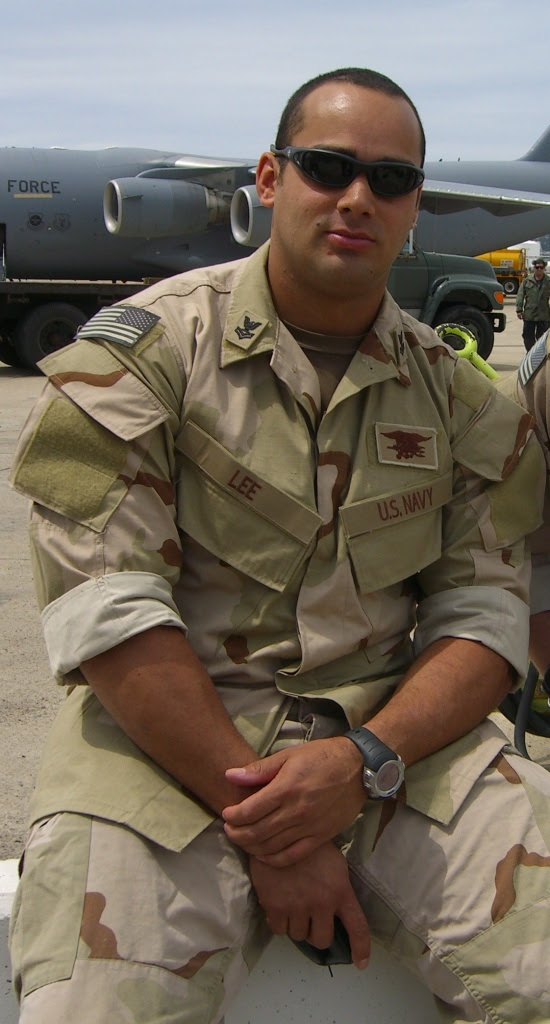 ferocious firefights with enemy forces in what would become known as "The Battle of Ramadi." While providing cover from a rooftop position for his SEAL teammates maneuvering on the street below, Petty Officer Second Class (SEAL) Ryan Job was critically wounded by an enemy sniper. Immediately, Job's teammates from SEAL Team Three Charlie Platoon and members of SEAL Team Eight responded to their wounded comrade on the exposed rooftop. Lee fearlessly stepped directly into the position where Job had been shot just moments before and exposed himself to enemy fire to enable his teammates to lay down a heavy barrage of suppressive fire, recover Job and carry him off the rooftop to an evacuation vehicle below. After tanks and Bradley Fighting Vehicles engaged the enemy positions, the SEAL element entered a compound in pursuit of enemy fighters. While clearing the compound, the SEAL element was heavily engaged at close range from an adjacent building. Lee again moved directly into the line of fire to engage the enemy and protect his teammates and was struck by enemy fire and killed instantly. Job, whom Lee risked his life to save, lived three years before passing as a result of injuries he sustained during The Battle of Ramadi.
● Having served from 2001 to 2006, Lee was the first Navy SEAL to be killed in combat during Operation Iraqi Freedom. He was posthumously awarded the Silver Star, Bronze Star with Valor and Purple Heart. In his final letter home, dated July 2006, Lee wrote, "To all my family and friends, do me a favor and pass on the kindness, the love, the precious gift of human life to each other." His mother Debbie Lee put her son's words into action following his passing, creating the non-profit charitable organization America's Mighty Warriors. America's Mighty Warriors honors America's troops, the fallen and their families with programs that improve quality of life, resiliency and recovery.
● Briscoe makes his return to the NASCAR Xfinity Series this weekend in Saturday's Alsco Uniforms 300. He will pilot the No. 99 Production Alliance Group Ford Mustang for B.J. McLeod Motorsports in his fourth Xfinity Series start at Charlotte. His best finish at the intermediate track was 11th in the 2018 Alsco 300. Though the HighPoint.com driver is still looking for his first oval win at Charlotte, he is no stranger to the track's victory lane. Briscoe scored his first career Xfinity Series victory on the Charlotte Roval in October 2018.
● In addition to his Xfinity Series experience at Charlotte, Briscoe also made one NASCAR Camping World Truck Series appearance in 2017, when he started second and finished 11th in the N.C. Education Lottery 200.
● With 14 Cup Series races complete, Briscoe sits 25th in the point standings and leads the Rookie of the Year standings by 84 points over Anthony Alfredo.
Chase Briscoe, Driver of the No. 14 HighPoint.com Ford Mustang for Stewart-Haas Racing:
You notched your first top-10 at COTA last weekend in just your 14th Cup Series start. You've said all along you just needed a day of no mistakes. Is that how the finish came together?
"It was a day we had been waiting for all year long. Everything finally came together, even after having to start from the back. We knew it would be a good opportunity to go run up front, and the rain definitely helped, as well. We were in a position to be able to get stage points in each stage and then come out with a top-10. I knew we were going to be in trouble if we didn't switch to wet tires when we got the first chance early in the race, so I'm glad we were able to stay out of trouble on slicks for those first few laps and come out with a good finish. Now we have to follow up this week and show what we're capable of."
The Coca-Cola 600 is one of the most challenging races on the schedule – 600 miles around Charlotte Motor Speedway and you'll have a special person on board the HighPoint.com Ford Mustang this weekend. What does it mean to you to be a part of this event, and what can be expected from the No. 14 team?
"It's always fun when you can honor these guys and girls who have fought for our country and our freedom. The Coca-Cola 600 is a race I've always wanted to be a part of. The pageantry that goes into that race, and really the whole day, is super cool. I think Petty Officer Lee deserves to be on the car every week. It's an honor to have him on there and to be able to share his story. We want to do him proud. We wouldn't be able to do what we do if it wasn't for him and all of the others who have given their lives to protect us.
"But, in terms of the race itself, I don't know what to expect, really. I've heard some guys say the Southern 500 is the longest-feeling race, others say this one is, and some say Atlanta feels the longest. I'm sure it'll be a challenge, and then you throw the Xfinity race in, and now we're at 900 miles in two days. I've never done two races in one weekend, with the exception of the Bristol dirt race. It'll be hot, I'm sure, but it'll help that we run the Cup race at night. It'll be fun to be slipping and sliding around out there and to have lots of seat time to figure out what I need, but it'll definitely be another challenge to overcome. We had some work to do on our 1.5-mile program, so practice and 600 miles of racing will give us a good opportunity to tune some adjustments in."
TSC PR