Race Highlights:
Austin Dillon qualified 19th followed by Ty Dillon, who qualified 24th

Ty and Austin Dillon finished third and fourth in their respective heat races, and started 13th and 19th, respectively, in the main 150-lap event.

Ty Dillon recorded his 18th career top-five finish in the Camping World Truck Series by finishing fifth.

Austin Dillon recorded his 38th career top-10 finish in the Camping World Truck Series by finishing 10th

Next up for the Dillon Brothers; Ty Dillon will compete in

Saturday's

Lilly Diabetes 250, Austin Dillon will run in the 20th Annual Brickyard 400 at Indianapolis Motor Speedway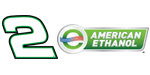 Austin Dillon Earns 10th-Place Finish at Eldora Speedway
Austin Dillon earned a 10th-place finish in the No. 2 American Ethanol Chevrolet Silverado at Eldora Speedway on Wednesday evening. The 2011 NASCAR Camping World Truck Series Champion started NASCAR's only race on dirt from the 19th position. He showed speed in the early stages of the event, advancing to 13th by the time officials displayed the caution flag on lap 60 signaling the end of the first of three pre-designated segments. During the break, the Nick Harrison-led crew pitted for four tires, fuel and a chassis adjustment to correct a tight-handling condition and give the black and green machine more forward drive off the corners. Restarting from the 14th position for the second segment set for 50 laps, Dillon continued his forward progression in the running order, working his way into the ninth spot before steering issues began to plague the Welcome, N.C. driver. When the competition caution was displayed to signal the end of the second segment, the team determined the sway bar arm was touching the tie bar rod, creating the steering issues. He started the final segment from the 12th spot and ultimately worked his way up to 10th in the American Ethanol Chevrolet for the race's finish.
Start - 19th       Finish - 10th    Laps Led - 0                Points - N/A                    
AUSTIN DILLON QUOTE: 
"I'm proud of all of the guys at RCR for working so hard to put this program together, and I want to thank them for all of their hard work. I want to thank American Ethanol ,as well. This race was a lot of fun, we just didn't have enough to battle for the win like we did last year."
Ty Dillon Finishes Fifth at Second Annual Mudsummer Classic
Ty Dillon drove Richard Childress Racing's No. 3 Bass Pro Shops Chevrolet Silverado to a fifth-place finish Wednesday night in the second-annual NASCAR Camping World Truck Series 1-800-Carcash Mudsummer Classic at Eldora Speedway. Dillon qualified 24th, but finished third in his heat race to advance to the feature event and start 13th. The 22-year-old driver, who competed in the inaugural Mudsummer Classic a year ago, quickly drove his Silverado inside the top-five. By lap 19 Dillon was in fifth-place. By the first competition caution on lap 60 Dillon was in second place. Following the lap-63 green-flag restart, the team ran into some difficulties on lap 86 - Dillon made contact with another truck, which forced a trip to pit road for repairs. The team was penalized for an illegal pit stop, which put the former Truck Series regular a lap down. A second competition caution on lap 110 allowed the No. 3 team to earn the "Lucky Dog" award and move back to the lead lap. By lap 135, Dillon had his Chevrolet Silverado inside the top-10 and when the checkered flag waved he raced under it in fifth place for his best career-high finish at Eldora Speedway.
Start - 13th     Finish - 5th   Laps Led - 0     Points - N/A
TY DILLON QUOTE:
"We had a good enough truck to win this thing tonight. We ran into a misunderstanding there with our pit stop, but we kept our chin up and kept digging. I was really proud of our attitude and Danny's (Stockman) determination to win tonight. This is such a great event and I'm very fortunate to be able to have raced tonight. I hope to be a part of this race for many years to come."
RCR PR